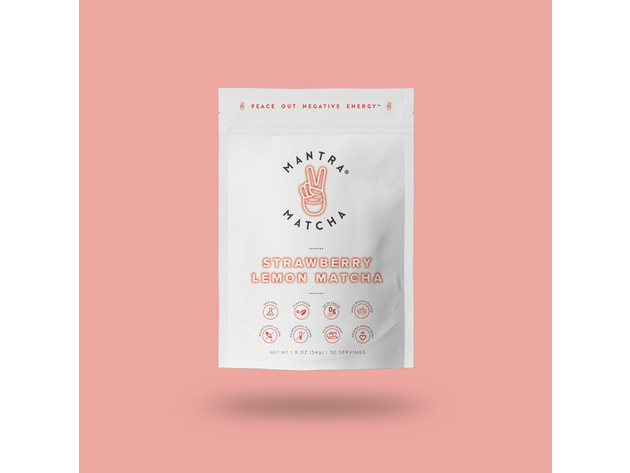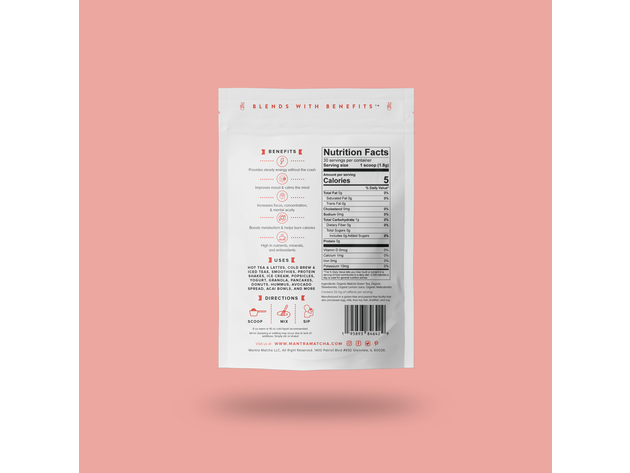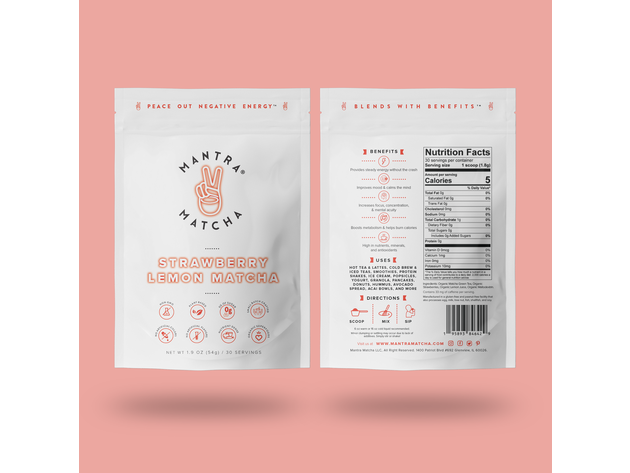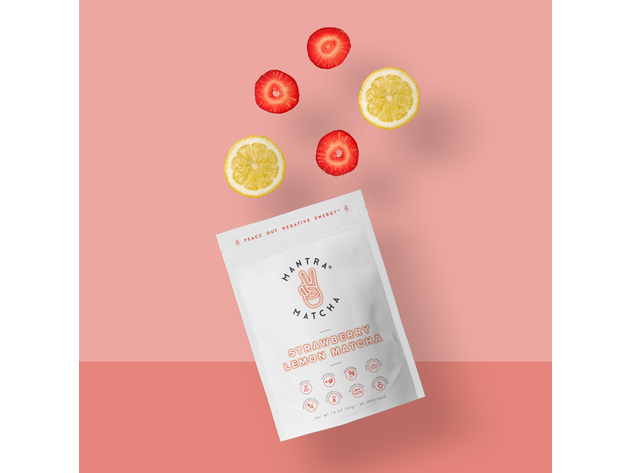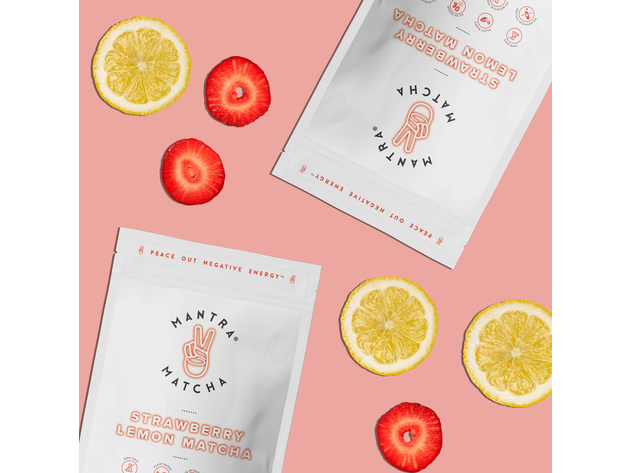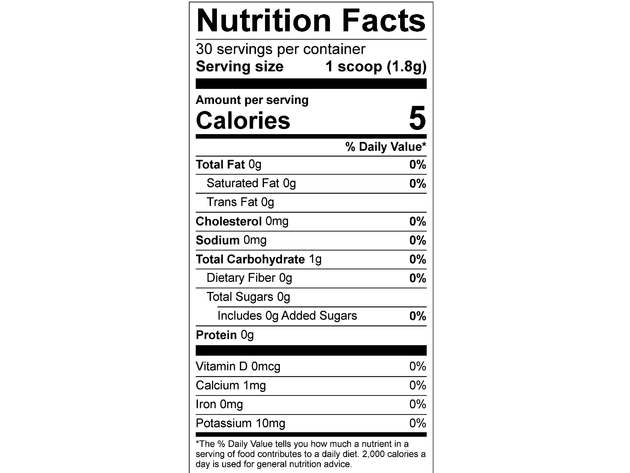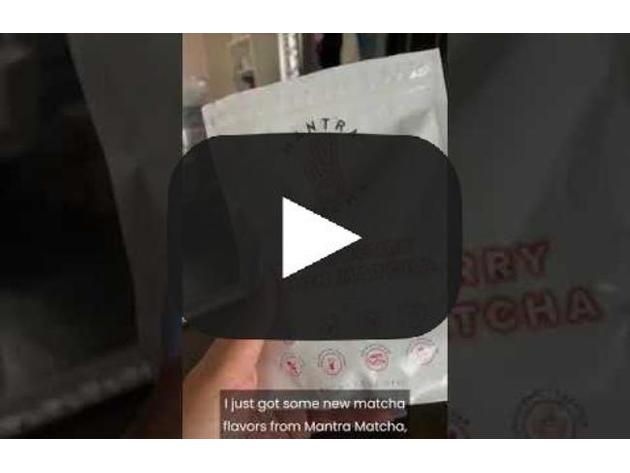 by Mantra Matcha
Description
Strawberry Lemon Matcha
This is what a lively sunny day would taste like if it was captured in a cup. Few things are more refreshing than a crisp, fresh-squeezed glass of lemonade, especially one infused with organic strawberries. When combined with fresh matcha, you'll want to make our juicy lemon heaven your main squeeze everyday. This invigorating matcha blend provides a flavorful superfood kick that can brighten any day. Sip to restore, rehydrate, and energize naturally.
Specs
Organic Ingredients
Ingredient List
Organic Super Premium Ceremonial Matcha
OrganicStrawberries
OrganicLemon Juice

Organic Maltodextrin
No Nonsense
Super Premium Ceremonial Matcha A superfood powerhouse form of green tea loaded with nutrients, antioxidants, and a variety of health benefits. We use Mantra Matcha's own Super PremiumCeremonial Matcha as the base for all our blends. It contains less caffeine per serving (33mg) than a standard cup of coffee (95mg) and is the perfect coffee replacement and anytime pick-me-up.
Organic Strawberry You know strawberries are juicy and delicious, but did you know that they're also high in vitamin c, manganese, folate, and potassium? Additionally, they contain antioxidants and plant compounds that contribute to proper heart health. The benefits of strawberries don't stop there. They're credited with helping to lower bad cholesterol (LDL), inflammation, and oxidative stress.

Organic Lemon Nothing quenches your thirst on a hot day like lemonade. This is because lemons actually promote hydration by enhancing the flavor of water and other beverages. Lemons are commonly included in cleanses and cold-pressed juices because of their benefits. They contain polyphenol antioxidants, which combat weight gain. Like oranges, lemons are an excellent source of vitamin C, which can have profound positive effects on skin quality. Lemons have the ability to help with dry-mouth, bad breath, constipation, digestion, and skin glow.

Organic Maltodextrin A pinch of organic, non-GMO maltodextrin produced from vegetable starch has been added solely for the purpose of preventing hardening of the powder. It is not used as sweetener or filler in any Mantra Matcha products.
Net Wt 1.9oz (54g), 30 servings.
Non-GMO, No Artificial Colors or Flavors, Organic, Plant-Based, &Delicious.
BENEFITS OF MATCHA
1 cup matcha green tea = the benefits of 10 cups traditional green tea

Provides steady energy without jitters

No crash from sugar or high amounts of caffeine

Supports immune system

High in nutrients and minerals

Improves mood and calms the mind




Decreases stress and anxiety levels




Increases focus and concentration

Boosts metabolism and helps burn calories

Restores vitality and feeling of well-being
Traditional Hot Tea Whisk and add to 6 oz of warm water.
Matcha Latte Whisk and add to 6 oz of warm milk (e.g., oat, almond). Enjoy it as an Iced Matcha Latte by using cold milk or adding ice after warm preparation.
Cold Brew Matcha Add matcha to a 16 oz bottle or shaker filled with cold or room temperature water and shake vigorously. Add ice cubes if desired.
Additional Uses Add to yogurt, granola, popsicles, protein shakes, oatmeal, acai bowls, muffins, pancakes, donuts, cookies, martinis, ice cream, and more. Check out our recipe page for more ideas.
Sweeteners This matcha blend does not contain any added sweeteners, real or artificial (not even stevia). Drink unsweetened or sweeten to your liking with honey, organic cane sugar, or monk fruit.
Toppings Get creative by adding other toppings such as caramel drizzle, lemon, cinnamon, nutmeg, or cacao.
Mantra Matcha: No Nonsense. Super Premium. Real Good.
Shipping
Ships to Contiguous US
Expected Delivery: Oct 3 - Oct 7